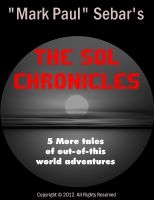 For those who have waited, wait no more. The SOL Chronicles are a free read to the public and they can be downloaded here at this web address in one of several ebook formats so please enjoy and if you like that last chapter, imagine the read of Solara and Paau Ma Dayeb before this all happened.
http://www.smashwords.com/books/view/179554
These are short shorts of stories only several pages long and also a very fast read as well. There are 5 chapters and the first and last tie into one another. This was always planned as a free release especially to my many readers as thanks and again, if you like these, check out the original title of "SOL" by me and it should be a great read hopefully, especially for sci-fi fans.